Rolling Road Services
We offer chassis dyno services and tuning for specific Renault models.
A Chassis Dyno (also known as rolling road) in simple terms is a piece of equipment that allows us to drive your vehicle under varying loads in real time without needing to leave our workshop. The vehicle is carefully secured to the dyno and fresh air is fed to the car via a large fan, likewise exhaust fumes are extracted out of the building.
The main advantage of a dyno is that we can carry tests i.e. performance, in a safe manor whilst data logging various parameters. From there we can diagnose running issues and or carry out Performance upgrades to further enhance your drive. These performance gains can be measured and over laid on previous runs to show exactly the gains that have been made. Simply it is an invaluable tool to the professional tuner!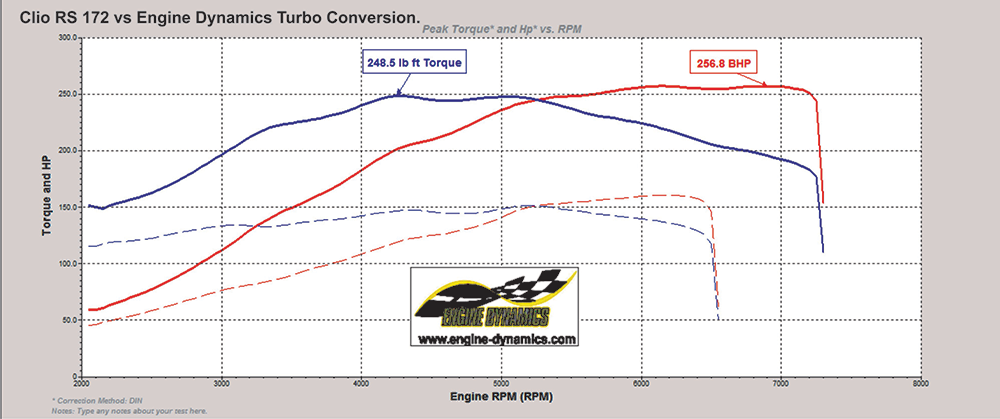 We offer chassis dyno services and Tuning for specific Renault models only. For a list of these services please see more information in the Workshop and Dyno Services sections under your specific Renault model. If you feel you require something outside of what is listed, then feel to contact us at dyno@engine-dynamics.com.
At the forefront of our Dyno cell is a Dynomite 2WD chassis dyno. This combined with Eddy Current Brake, 28 Channel harness, Automatic Weather Station and Dynomax Pro software provides us with invaluable data acquisition for effortless steady state tuning, diagnostics and power testing of your Renault.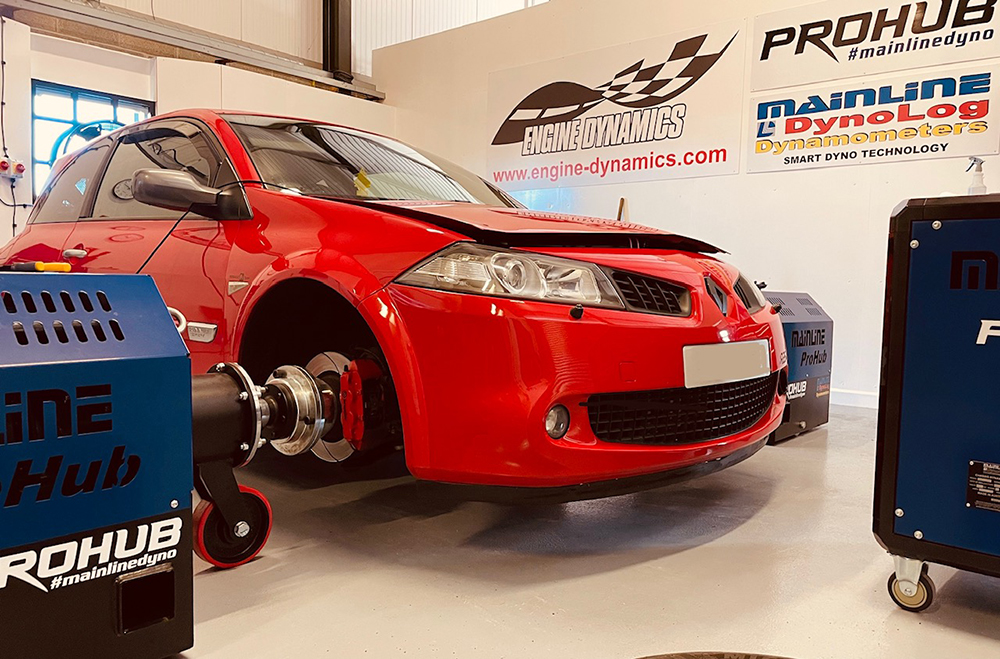 Over the years we have added specific tools and software to work with the Renault factory ECUs, this goes hand in hand with some of our dyno services. We can offer our customers tuning solutions for various engine specifications from mild to wild and we make our own professional calibrations in house using officially licensed WinOLS software. Our tuning services have proved themselves not only on the race track, but day to day running on the road with an ever increasing list of satisfied Renault Sport customers.
Over the years so called "ECU Tuning" has become more commercially available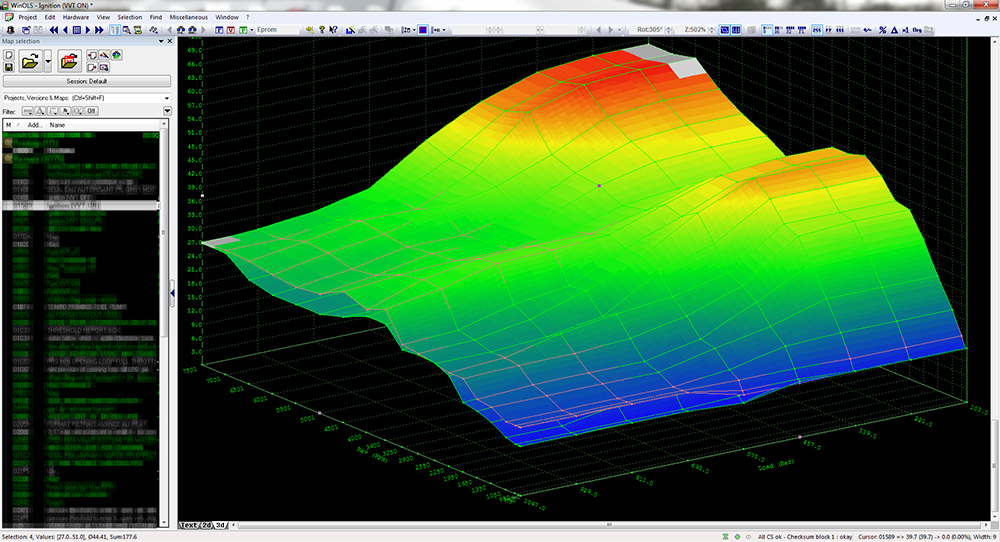 We want you to get the best out of your visit to our dyno and with most customers traveling from far and wide we have prepared a small checklist below. Some of the points may not be applicable to you, but its best to have a look through.
For short term Power Testing / Diagnostics make sure you arrive with at least a quarter to half a tank of petrol. For Full Dyno Tuning we recommend a full tank of petrol is supplied. (98 Ron Shell V-Power or 99 Ron Tesco Momentum is recommended). In both instances it is rare we will use that much fuel, but we also consider your return journey, or at least travelling to another fuel station!
For performance tuning make sure the fuel you wish to tune the engine on is also available local to you. Sounds obvious, but it is not safe to use a lower or cheaper grade once the car has been tuned and optimised. 98+ Ron Super Unleaded fuels are usually the minimum requirement for performance increases / tuning, so If you intend to use a lower quality fuel we would advise you contact us first or mention this during booking.
Check oil and coolant levels and more importantly check for any major leaks before traveling as this may prevent the car going on the dyno.
Check condition of tyres and tyre pressures.
Have you serviced the car recently? Most running issues diagnosed or problems that arise during tuning usually stem from basic serviceable items such as spark plugs, plug leads or coil packs.
Make sure the exhaust system is in good condition i.e. no leaks as not only can this sometimes effect the running of the car, but also give some incorrect readings on our fuel ratio logging equipment.
In most instances we use the vehicles front towing eye fixture as a point to secure the car on the dyno. We don't need your towing eye as we have our own, but access to the thread fixing behind the bumper is required.
Is the vehicle extremely low or does it have aftermarket front splitters or similar? In most instances we have no issues with cars lowered cars, but if your vehicle is extremely low it may not go on the dyno. If the vehicle has adjustable suspension then we would suggest raising the front of the vehicle before visiting. (Speak with us first).
Finally If you have any questions or concerns PLEASE raise them when booking or before traveling as it will save time and money!
---
Nearest fuel stations:
Nearest Tesco fuel station (Momentum 99 Ron) is 8.51 miles from our location. Please see website link for more info: External Link
Nearest Shell fuel station (V-Power 98 Ron) is 6.11 miles from our location. Please see website link for more info: External Link
---
Book a dyno session
If you're interested in booking a session or finding out more about our services, please contact us.
---