Dyno and Tuning Services
We offer chassis dyno services and tuning.
This page explains a little more about our Dyno and Tuning Services. If you are planning to or have booked into visit us for Dyno Services please have a read through taking note of the guide at the end.
At Engine Dynamics we have a fully equipped Dyno Cell (Room) that features a Mainline DynoLog Prohub Dyno. These dynos are suitable for tuning for up to 2000 BHP and known for power testing way over that figure! With over 200 maths channels it has a range of features to allow us to carry out different tests from simple boost pressure and Air Fuel Ratio to more advance tests such as Intercooler efficiency and fuel pressure data logging.
Unlike more common Rolling Roads the wheels are removed from the vehicle and the units are bolted directly to the cars hubs, hence the term 'Hub dyno'. This has many advantages such as measuring repeatability, safety (no straps required), so no issues with tyres overheating or frustrating influence to measurements due to different tyre compounds or geometry settings.
The hub dyno in simple terms allows us to safely drive / test your vehicle under varying loads in real time without needing to leave our workshop. Your vehicle is carefully secured to the dyno and fresh air is fed to the car via a large fan, likewise exhaust fumes are safely extracted out of the building.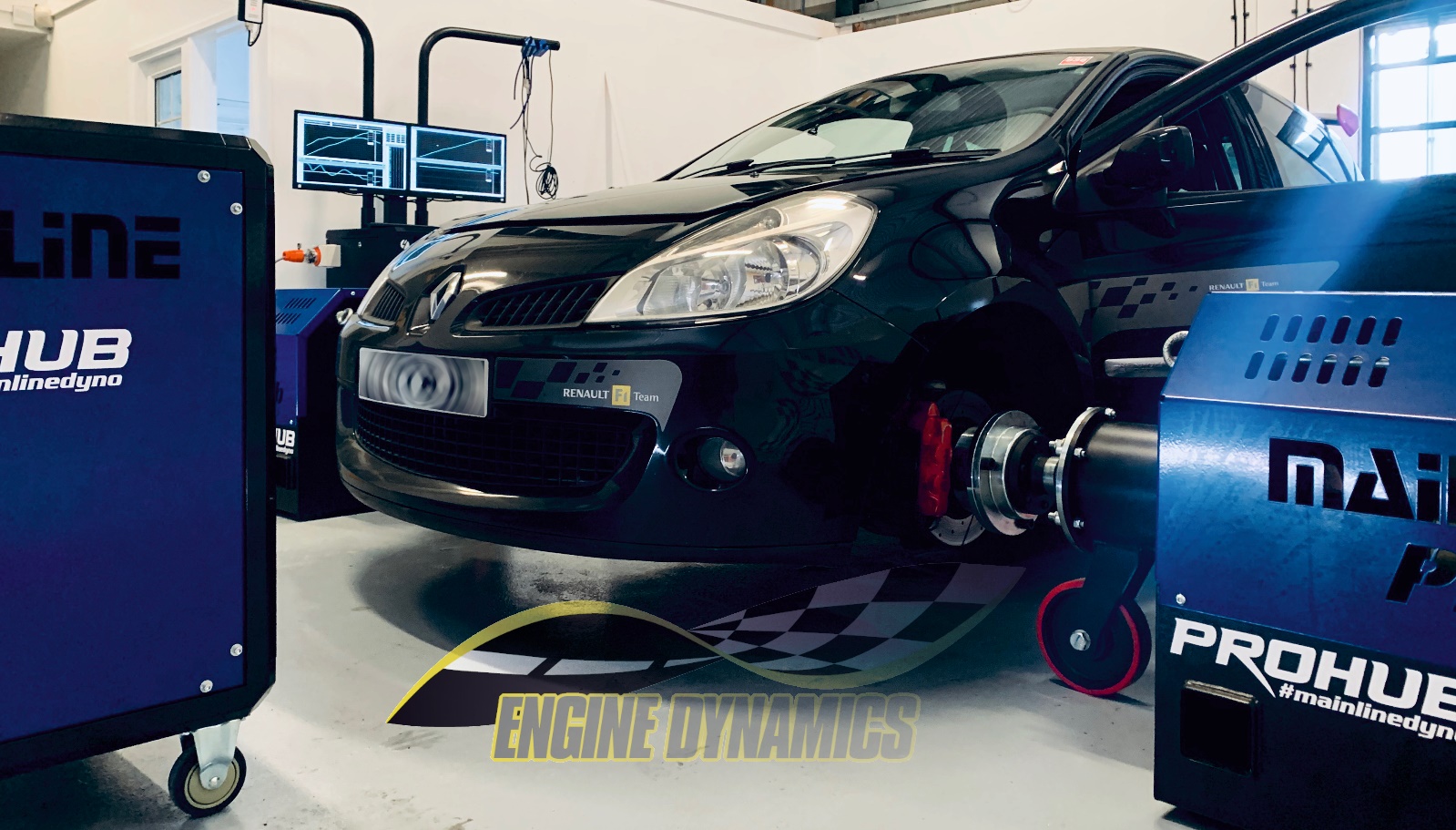 Depending on the nature of you visit, once we have collected some initial base test results we can diagnose running issues (if applicable) and or carry out Performance upgrades to further enhance your drive on the road or track. These performance gains can be safely monitored, measured and over laid on base test results to show exactly the gains that have been made or that an issue has been rectified. To put it simply it is an invaluable tool to the professional tuner!

We can offer dyno testing services (Also known as Power Runs) for most Front and Rear wheel drive vehicles, although for enhanced services and tuning we are mainly focused around Renault Sport Models. For a list of these services please see more information on the website in the Workshop and Dyno Services sections under your specific Renault model. If you have a non-Renault vehicle or maybe you require something outside of what's listed, then feel to contact us on info@engine-dynamics.com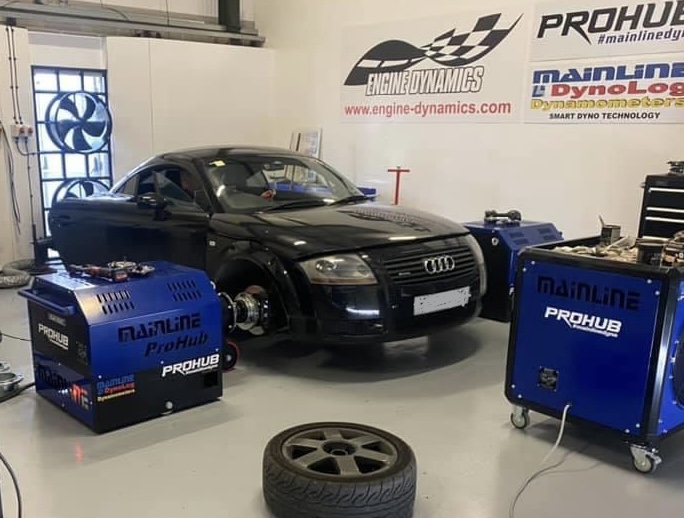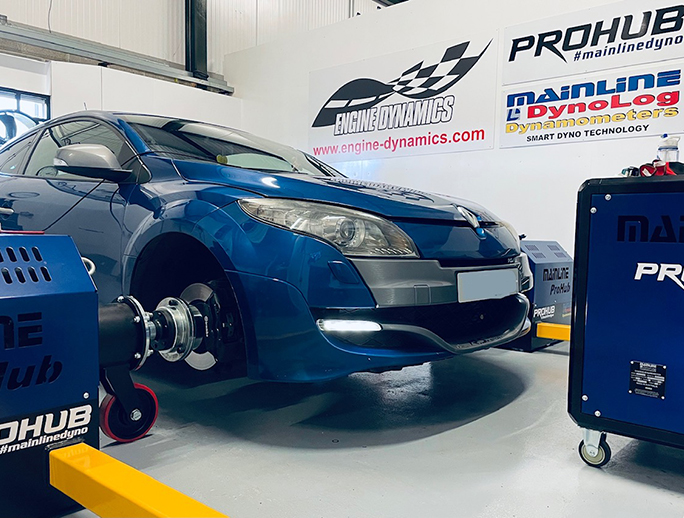 When carrying out ECU tuning the data acquisition is only part of the equation. Over the years we have invested countless hours, acquired specialist tools and software to work with the Renault factory ECU's as this goes hand in hand with most of our dyno services. We can offer our customers tuning solutions for various engine specifications from mild to wild and we make our own professional calibrations in house using officially licensed WinOLS software. Our tuning services have proved themselves not only on the race track, but day to day running on the road with an ever increasing list of satisfied Renault Sport customers.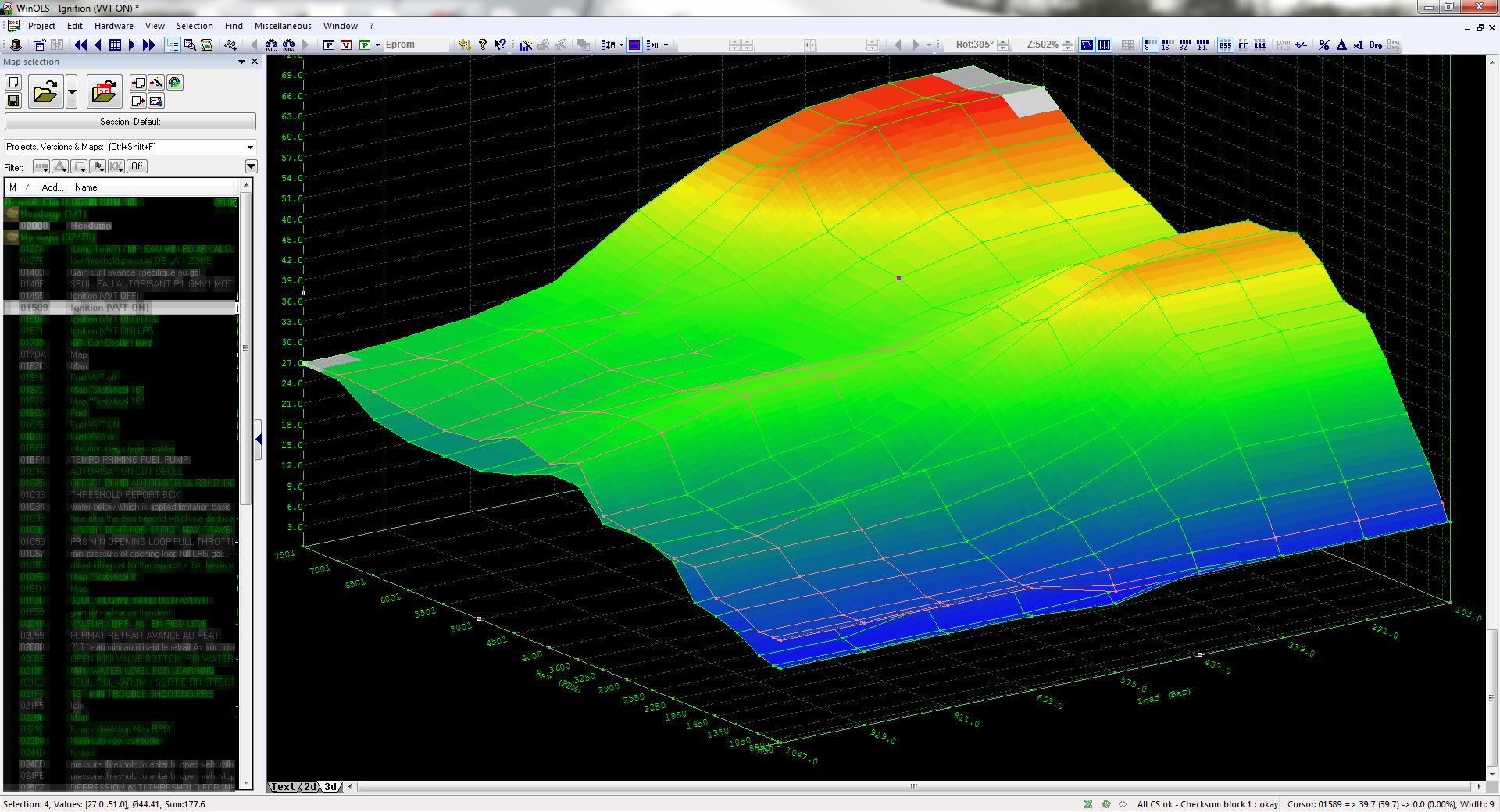 ---
Visiting us for the Dyno? Please read Below!
We want you to get the best out of your visit to us for Dyno / Tuning Services and with most customers traveling from far and wide we have prepared a small checklist below. Some of the points may not be applicable to you, but its best to have a look through..
Don't Forget your Locking Wheel Nut / Bolt Tool !! if applicable.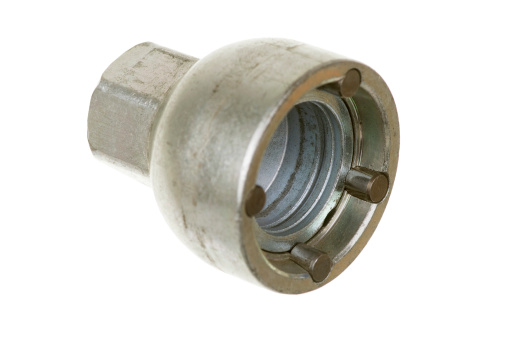 We need to remove your wheels, so please make sure a locking wheel nut/bolt tool is in the car if applicable. We would also appreciate that you check the driven wheels can be removed from the car, sounds obvious, but we do see some with seized bolts or wheel hubs. Cars fitted with nut and stud conversions are no issue, again if there is a specialist pattern tool to remove the nuts, bring that with you!
For short term Power Testing / Diagnostics make sure you arrive with at least a quarter of a tank of petrol. For Full Dyno Tuning half to a full tank of petrol usually suffices. (99 Ron Shell V-Power, Esso 99 or 99 Ron Tesco Momentum are always recommended). Simply fill the car up if you can as you need to also consider your return journey, or at least travelling to another fuel station!
Fuel Quality is important! For performance tuning make sure the fuel you wish to tune the engine on is also available local to you. It is more than often not safe to use a lower / cheaper grade once the car has been tuned and optimised. 97+ Ron Super Unleaded fuels are usually the minimum requirement for performance increases / tuning, so if you intend to use a lower quality fuel we would advise you contact us first to discuss any possible tuning limitations.
Check oil and coolant levels and more importantly check for any fluid leaks before traveling as this may lead to the session being cut short and possibly costs towards clean up.
Have you serviced the car recently? Most running issues diagnosed or problems that arise during tuning usually stem from basic serviceable items such as spark plugs, plug leads or coil packs. Timing Belt and Auxiliary Belt services should also be within their serviced time frame as we need to test to the limit on the dyno.
Make sure the exhaust system is in good condition i.e. no leaks as not only can this sometimes affect the running of the car, but also give some incorrect readings on our air fuel ratio data logging equipment.
Battery Voltage and Electrics are equally important. If you struggle to start the engine or have electrical gremlins that you feel may affect us working on your car, PLEASE let us know before the appointment. During the tuning process there tends to be a lot of stop, starting and cycling of the ignition system, so the car should at least have a good working battery.
What if something is wrong with the car when I bring it in for tuning? Unfortunately none of us have a crystal ball that works, but sadly things do come up on rare occasions. We are always fair with customers and although sometimes problems are not highlighted until initial dyno testing is done, there may be the need to abort any tuning. If after assessing the issue and we feel it can be rectified whilst the car is on the dyno, then we will advise the customer of any costs before tuning. If it's the case of booking for another day, then we duly have to charge for the time spent and report on the invoice our findings alongside solutions where possible.
Can I wait around and watch? We don't have a dedicated dyno viewing area, but with most dyno visits lasting 1-3 hours we are happy for customers to wait in reception. The reception is air conditioned, has comfy seating and Wi-Fi. As our location is remote, you may wish to bring a long some snacks and drinks. If you want to venture off and leave the car with us that's no issue if we can contact you if needed.
Can I get some pictures or a video? Yes we are more than happy to bring the owner into the dyno room near to the end of the session when the car is not running. We will happily show you around and chat to you about what's been done, you can then grab some photos of the car whilst it's still on the dyno. By prior arrangement we can grab a video of a dyno run for you which can be accessed online after the appointment. If you wish to bring along some professional video equipment, please speak with us before the appointment.
Finally If you have any questions or concerns PLEASE raise them when booking or before traveling as it will save time and money!
---
Nearest fuel stations:
Nearest Tesco fuel station (Momentum 99 Ron) is 8.51 miles from our location. Please see website link for more info: External Link
Nearest Shell fuel station (V-Power 98 Ron) is 6.11 miles from our location. Please see website link for more info: External Link
Nearest Esso fuel station (Esso 99 Ron) is 4.80 miles from our location. Please see website link for more info: External Link
---
Book a dyno session
If you're interested in booking a session or finding out more about our services, please contact us.
---